Nature-Inspired Gift Guide
The holidays are just around the corner and you might be reflecting about the best gifts to give!  Based on your requests, I put together a nature inspired gift guide with my Top 10 Nature-Inspired Gifts for 2020!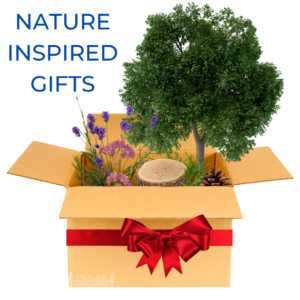 Note: Only the Amazon links are associate links, and we earn a small percentage from your qualifying purchase through these Amazon links (at no additional cost to you).  All funds go help to provide quality resources and materials for the kids in our programs.  The other links are not affiliate links and we get no financial kick-back for recommending them to you.
There are some great nature-inspired games that your whole family can enjoy.  Gift "GoFindIt" – an outdoor scavenger hunt that even our littlest explorers can participate in (there are multiple ways to play to engage our tots thru to teens).  We just got "Match a Leaf" and "Flower Families" a memory and go-fish style game that helps all of us learn to identify plants outside (plus a host of other social and cognitive skills)!  On our list is the game "WildCraft" an herbal game for kids ages 4-8 that looks super fun (and interesting) and doesn't require reading skills.  
9. Paracord for Play & Crafts
Inspire fort building, pulley systems, and more with the simple, but well loved gift of paracord!  You can get great play-grade paracord at Dollar Tree in 25′ lengths.  You can also gift a kit like this for your child to practice their knot tying skills (find videos here), learn to make (and give) paracord bracelets, key-chains, and more.  Crafting with paracord is super fun AND functional (fashionable survival tools).
Tuck a few new fidgets into a gift bag or envelope to help your child keep their hands busy and minds focused.  This 2-pack includes a roller chain fidget and key flippy fidget – both primarily made out of metal, instead of plastic.  I have both and have given both to kids – with rave reviews.  Click here to order.
After trialing child hammers and standard hammers, we have discovered many kids are more successful using a craft hammer.  It provides the weight but cuts down on the size, making it easier for small hands to control.  Collect some scrap wood, buy some wide head nails & this hammer, and you can give hours of tinkering and creativity!  Click here to check out a great craft hammer.  
6. Monarch Butterfly Wings
Fly through the yard with this soft, flowing monarch butterfly wings.  They take very little space to store but provide big imaginary play.  Wear these wings as you search for butterflies on your next hike.  I would say these are great for ages 2-10.  Click here to see these beautiful wings.  
5. Wooden Balancing Stones
Not only are the beautiful, these wooden balancing stones build fine motor skills, hand eye coordination, and problem solving skills.  Plus they are fun for kids of all ages, even adults!  Wouldn't they also look lovely in a basket on your coffee table?  Fun, fancy, & functional!  Click here to gift balancing stones this year!  
4. Think Outside Subscription Box
Give a full-year of adventure with a Think Outside subscription box.  Our family has enjoyed this box each month in 2020.  The gear is really cool, the activities are engaging, and you really learn a TON about the great outdoors, survival, and adventuring in nature.  I'd recommend it for ages 9+ and I would 100% recommend the full 12-month subscription.  Learn more here.  
Kids ages 4+ (yes, even adults) have found so much joy, challenge, and engagement in a slack line.  This is the slack line we use at home + in our outdoor programs.  At home, when the slack line is up, my own kids (ages 5-10) and the neighbors use it daily!   The top line is essential and I have found this brand to be  durable, easy to set up and take down, and worth every penny.  Click here to learn more + order your own slack line!
Check out this True Temper Poly Kid's Wheelbarrow.  Kids ages 2-8 love loading and hauling sticks, logs, mulch, toys, and mud.  It's a great tool for play + a fun way to get kids involved in outdoor chores!  
1. "Unplugged" by Steve Antony
This beautiful picture book honors our connection to technology but also reconnects us to the feelings & powers of time in the great outdoors.  A must-read book for kids and adults of all ages and a book to keep in your personal library for years to come!  Check it out here.  
BONUS: Wooden Balance Board
Why is this a bonus? Because I have not actually tried it, but if I had, I have NO doubt this would be in the top 10! This is definitely on our list – it's versatile, functional, natural, and provides great sensory-motor learning opportunities. It's a bridge, a seat, a stool, a movement game, a reading nook, a workout, a partner game, a doll house, a balance beam, a chair … you name it. And with a 450 lb weight limit, your child (and family) can use it for years to come. You have to check this one out – it would be an awesome gift for any age kid. Like really — get your child this gift.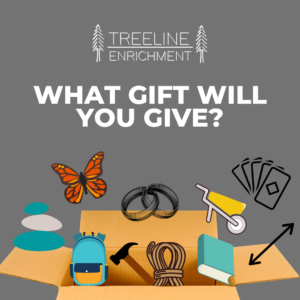 Looking for more books, camping gear, or outdoor play resources?  We have additional ideas on our resource page. 

What are some of your favorite nature-inspired gifts to give?  Comment below so we can check them out too!