Living in the Tampa Bay, Florida area means we have to prepare for the 5-months of hurricane season.  We have all kinds of systems for preparing our homes for severe weather, stocking up on food and water, and establishing safe spaces to shelter.  When storms approach, there is a graded buzz of anxiety and uncertainty in the air.  We watch the weather diligently for a week and as predictions become more reliable, the community comes alive with preparations.
Regardless if we personally approach incoming severe weather casually or have an elaborate plan we execute, our kids sense the anxiety and uncertainly in the air all around them.  They notice schools close, houses board up, grocery stores extra busy, gas stations with lines, extracurricular activities get cancelled, and an increase in news updates being shared.
For neurodivergent kids with sensory differences, these physical, relational, & environmental shifts and abrupt changes in routines can be more different to understand and accept.  It impacts their felt sense of safety, increase their internal stress levels, and can lower their thresholds for responding to the input around them.
As you make preparations for the next storm, consider assembling a sensory hurricane kit with your child.  To help you get started:
Make your kit in advance of the storm.
Your kit should be customized to their unique sensory differences.
The goal is to have a small bag that is easy to carry but full of meaningful tools to help your child feel calm and safe.
Take this bag wherever you shelter from the storm, the hallway, laundry room, a friends house, or a community storm shelter.
Hurricane Sensory Kit Ideas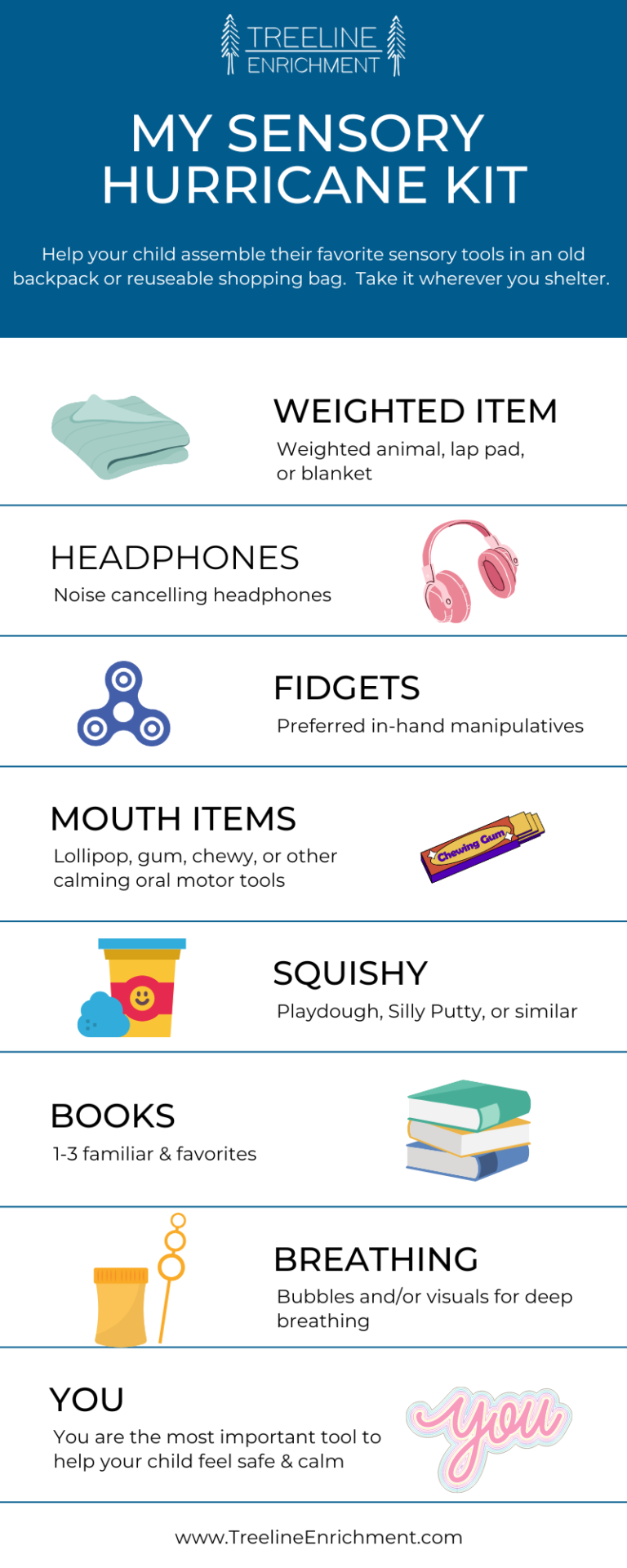 Other tips for supporting sensory differences in severe weather
Keep routines familiar as long as possible.  If you always read 2 books before bedtime, still read 2 books before bedtime, even if it's by flashlight and you are in the hallway.
Honor all feelings or experiences.  Your child's experience is different than yours – and your experience is different than your child's.  It's okay to talk about the differences while honoring each person's own needs and feels.
Talk in advance with your child about what to expect when/if the weather outside escalates in your area or the plans and experiences to expect if you lose power.  Physically walk through the plan and involve your child the decisions they can help with (which pillow and blanket?).
Use a white board or chalkboard and markers to make impromptu visual schedules or checklists or choice lists.  Pairing visuals can help our brain process information even when we are feeling on edge.
Remember – YOU are the most important regulation tool
Regardless of your ability to assemble a sensory hurricane kit, remember that YOU are the most important resource to help your child feel calm and safe.  Be authentic but aim to be the calm in their storm (pun intended).  Kids will be looking to YOU!
Tend to your own sensory needs.  Do you need ear plugs?  Ask for big hugs if you need them.  Take your own deep breaths or meditation breaks.  The more regulated you feel, the more you will be able to support your child.
Connect, connect, connect!  Be fully present as much as possible with your child.  Read, sing, hold, rock, snuggle, breath and play together!
Additional resources to share