7 Reasons Outdoor OT & Homeschool Are a Perfect Match
Childhood development is fascinating – no two children take the same course. We know you understand this as a homeschool parent. Even two children with the same parents are drastically different. 
The strengths, needs, learning styles, and preferences of each of your children are unique. At Treeline Enrichment, we understand this. 
While we cherish all the families we work with for outdoor OT, we've noticed there's something unique about homeschool families. The family structure, values, and educational choices make the impact of outdoor OT even greater.
Here are a few reasons we think homeschool families maximize their experience during outdoor OT.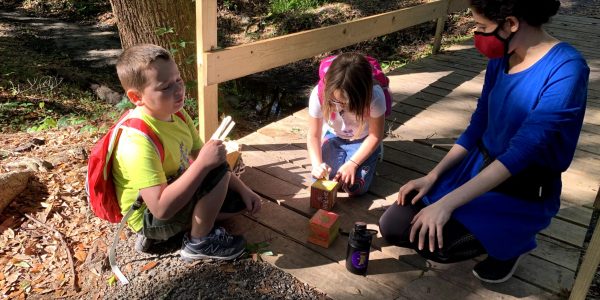 1. Homeschool Families Embrace Flexibility
Homeschool families are masters of flexibility. You're teaching multi-age, multi-level groups, and juggling tasks all the time. You know that a child's age doesn't always equal their skill level – so you flex and adapt like a pro. 
Different teaching method?

Different season of life?
Different mood? 
Homeschool parents get it – and you're not afraid to experiment a bit to find the most effective technique. This makes homeschool families fantastic outdoor OT clients. You understand that flexibility is key to success and that your child will find their way through mistakes. 
Therapists at Treeline Enrichment provide recommendations for you to implement at home. We value your willingness to incorporate these and give us feedback about what's working – and what's not. 
You understand that it takes time, and a little trial-and-error to find the routine or intervention that works best for your child. We find homeschool families embrace this exploration and help their children understand it as well.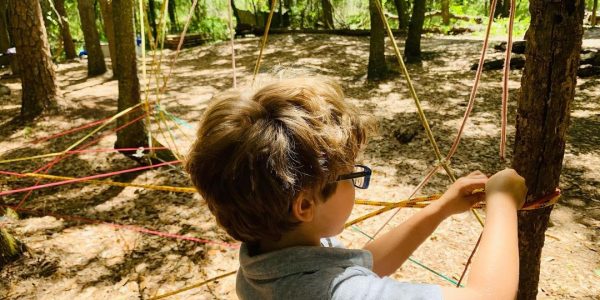 2. Homeschool Families Understand the Value of Being Outdoors
Your kids spend time outdoors because you know the value it brings. You see the impact nature has on your child – so you understand how outdoor occupational therapy can have greater benefits for your child. 
Are the kids being grumpy? Take them outside.

Bouncing off the walls? Head to the park.
Does life feel overwhelming? Go to the woods and take some deep breaths.
We lean into your child's creative, exploratory spirit during our outdoor OT sessions. Your child is encouraged to try new things and investigate the world around them. The great outdoors is never the same, so your child will get a new experience every session. It may be sunny one day, and rainy another. These rich variables provide new sensory and movement opportunities for your child. 
For more information about why we do outdoor occupational therapy, check out this blog post.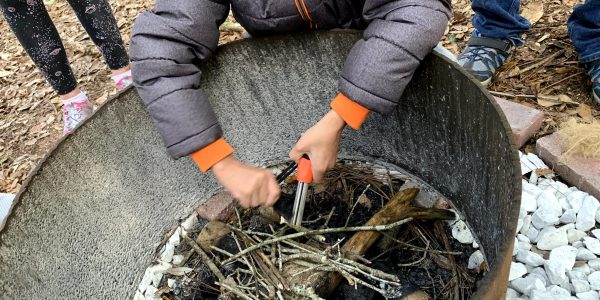 3. Homeschool Families Gift Children Extra Time
We've found that homeschool families often give their children the gift of more time. This increases the chances that your child can practice the new skills they are learning in their occupational therapy sessions. It also decreases anxiety and overwhelm for the whole family. 
You're just as busy as any other family, and you intentionally structure your daily flow to allow flexibility and time for important tasks. You schedule time for academics as well as life activities such as food preparation, gathering sports equipment, or playing at the park. You create time in your day so your child doesn't feel pressure while learning these new skills. Instead, they're able to take time to learn tasks that are meaningful in their life. 
This isn't to say you have all the time in the world or never rush out the door – but in general, homeschool families can be more flexible and more forgiving when a child is practicing organizational or time management skills. 
At Treeline Enrichment, we value this extra time as well. 
Outdoor OT groups are two hours long, and 1:1 therapy sessions are 55-minutes. We know that this is time well-spent because your child's learning won't stop with us. You'll carry the lessons over into their homeschool routines and family life. Removing the rush allows your child's brain to stay calm and learn.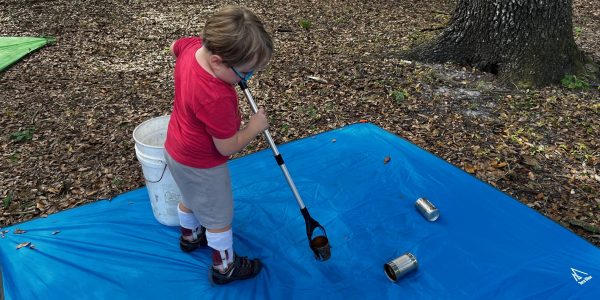 4. Occupational Therapy Recommendations Are Easily Incorporated into Homeschool
Homeschool families have a unique advantage when it comes to receiving OT recommendations. You have control over your child's academic experience. You can weave the OT recommendations, modifications, and supports into diverse learning experiences without mountains of paperwork or long discussions. 
There's no IEP team to consult, no IEP to write, and no convincing others that the modification is reasonable and necessary. You are your child's biggest advocate and the one who's following through to help them. 
Your Treeline Enrichment OT will evaluate your child's strengths and needs, provide targeted outdoor experiences to help your child build skills, and make practical recommendations to support your life and school routines. Even simple adjustments can have a large positive impact on your child's interest, engagement, and success.. As the parent and teacher, you're able to incorporate the recommendations more consistently – which leads to more growth. 
Are you perfect about consistently modifying things for your child? Of course not – and we would never expect that. We're moms and humans as well – so we know all too well that we can be inconsistent. However, when you have your child with you all day, you have more opportunities to modify things to benefit your child.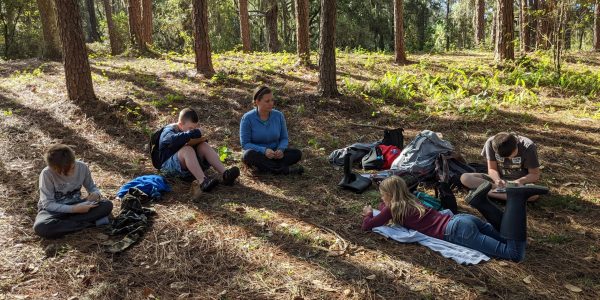 5. Outdoor OT Connects Your Child With Nature
Treeline Enrichment uses the natural environment to help your child build physical, social, and emotional skills. 
Children are naturally curious. Your child will see, hear, and touch a lot of new things in nature during their outdoor OT sessions. Most likely, your child will have a lot of questions about moss, bark, squirrels, logs, water, and so much more. 
We are happy to dive deep into these questions and explorations with your child, much like you would during homeschool. We find that homeschool families embrace these "rabbit-holes" in their child's education and curiosity. 
When the child is mentally, emotionally, and physically engaged, their outdoor OT session becomes even more impactful, and their curiosity may carry over into your school day. You may soon find yourself in a unit study about the life-cycle of frogs or studying waterways – we have a feeling you won't mind at all.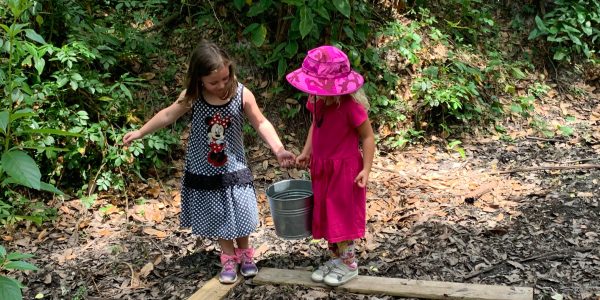 6. Homeschool Families Understand The Power of Social Connections
Don't worry – we know homeschool children are social. We don't believe children who are homeschooled need social skills training because they're homeschooled. 
Social development is different for all children. The fact is, many students struggle with social connections or they make connections in different ways – no matter where they complete school. 
Outdoor OT groups have rich opportunities for social connection and friendships while your child builds physical and sensory awareness. Group sessions allow your child to explore positive relationships with adults and other children, inviting them to learn from mistakes without judgment or punishment. 
Sensory sensitivities, auditory processing, impulse control, and decreased awareness of social cues, are just a few of the reasons why a child may struggle to make friends. The goal of outdoor OT groups is to help your child be more confident, coordinated, and connected to friends and nature. Your child participates in targeted therapy activities and receives therapeutic support during social interactions – all while having fun building forts, organizing games, preparing snacks, and more with peers.  
Learn more about Outdoor OT groups HERE.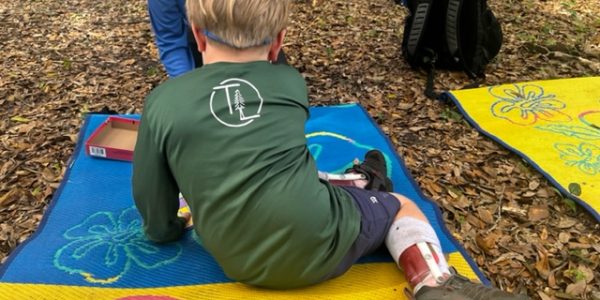 7. OT Can be Reimbursed by the Family Empowerment Scholarship
This is huge for Florida homeschooling families. 
Many of our families use this valuable scholarship to cover their OT services. The Family Empowerment Scholarship increases accessibility to our outdoor OT services for homeschool families and we are incredibly grateful it does. Treeline Enrichment is a direct provider for the scholarship as an added convenience to you.
We are happy to answer your questions regarding the use of your scholarship funds for outdoor OT services at Treeline Enrichment.  We see how homeschooled children benefit and excel with the combination of intervention and intentional homeschooling. 
Schedule a free 15-minute call HERE to learn more.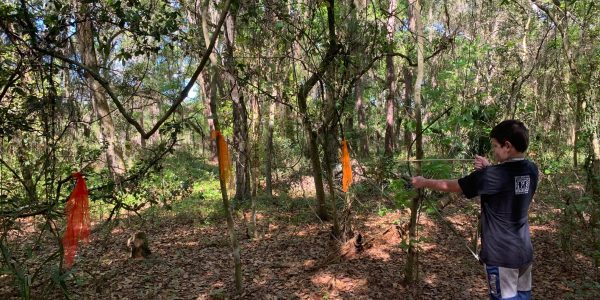 Outdoor OT and Homeschool – A Dynamic Duo
Outdoor OT has many benefits for children which we outline more in-depth in this blog. Outdoor OT is beneficial for kids across educational settings.  However, at Treeline Enrichment, we find that homeschool families reap additional benefits from outdoor OT. 
We have enjoyed the homeschool families we have seen over the years, and we are a fan of your educational choices and the benefits it brings to your kids. 
Treeline Enrichment is here to partner with you as you raise your child to be their best – which looks different for each family.
Schedule a free call today to learn more about Treeline Enrichment's Outdoor OT services. 
We provide individual and group therapy. We look forward to working with you and your child! 
One more thing in case you're curious… 
Treeline Enrichment has had an increasing number of homeschool families in our program over the years and we've also completed training with The Homeschool OT. We're honored to be one of their preferred providers. 
Schedule a free 15-minute call today to inquire about Treeline Enrichment's outdoor OT options for your child.