We believe that nature is a tremendously beneficial environment for occupational therapy services. Before we tell you why, you first need to understand the goal of a pediatric  occupational therapist is to help children meet their full potential. An occupational therapist guides a child to develop underlying skills, adapt to challenges, or to participate in activities to support overall wellness. 
A child will get the most out of therapy interventions if they are motivated, sense connection and find it meaningful. For an occupational therapist, this means creating an environment that is fun, provides felt safety and most importantly, provides opportunities for growth and development.
Nature from an OT's Perspective
Nature is the perfect partner for occupational therapists when working to promote positive developmental change. Many even label nature as a co-therapist because it brings so many fruitful dynamics to the therapy process. Plus, children who have positive experiences in nature will continue to seek connection with nature well beyond their childhood. That is something we can get excited about.

Come along with me to some of the outdoor spaces we have at Treeline Enrichment. I will highlight features from each space as seen from an OT perspective.
This location is away from distractions of modern life.  It is an invitation for a child to shift their focus from things like school, personal struggles, video games, and social challenges, to being fully present in the moment. It is a catalyst to help the nervous system shift from high arousal to a calmer state, prepped for engagement and connection – the sweet spot for change and growth. 
The tree in the foreground affords ample opportunities for a child to explore their physical capabilities.  The uneven nature of the trunk allows a child to test their balance, coordination and core strength. Whether walking alone or with the support of a therapist, a child will learn to adapt, self-assess and build new skills.  It provides opportunities for varying abilities with no need for the therapist to make any changes. 
The high, strong tree branches are an ideal location for the therapist to put up a swing which provides essential vestibular input, a foundation of self-regulation and other sensory input. (For more on the vestibular system read our previous blog).  Swings can be used in games, as well as free play.
The open spaces are perfect for games, circle time and building projects. Group activities offer real-life situations to practice vital social skills and emotional regulation while interacting with peers. Supported play scenarios allow the skilled therapist to guide children as necessary so they are challenged but successful (also known as a just-right challenge).
Another potential is the grouping of trees in the background. Paired with some rope, this is a great place to set up a climbing web or create a fort. Using collaboration, this is another chance to practice social-emotional skills in a way that is meaningful and motivating to participants. At the same time, it provides a tool that can be used to build strength, utilize problem solving and improve confidence.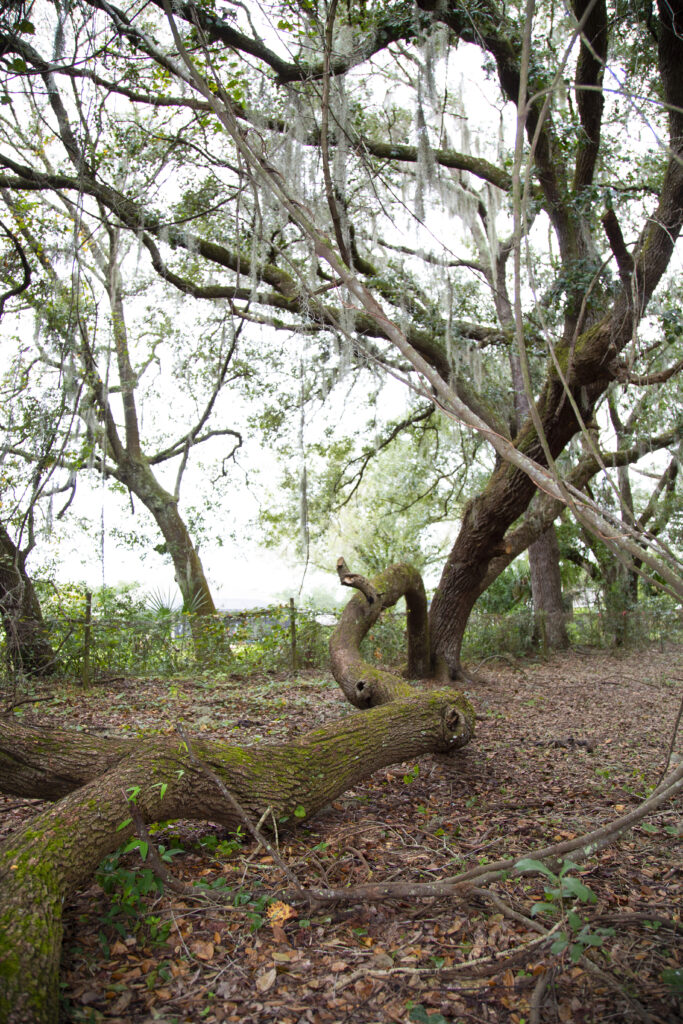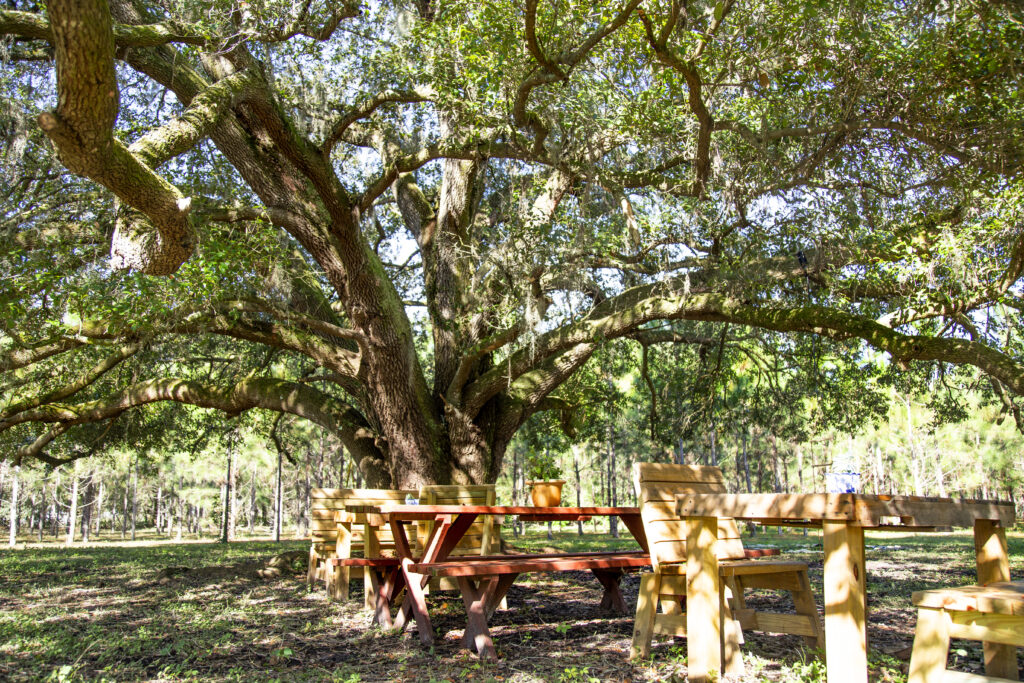 This space is ripe with opportunities to engage a child in transformative activities. Used for games, discussions or craft activities, the picnic tables serve as a gathering place for connection. When a child struggles with close social interaction, direct eye contact may be challenging. By sitting on the same side of the table, a therapist or peer can interact without the pressure of making eye contact. Specially selected crafts can be done that build fine motor skills, focused attention, emotional regulation and visual motor skills.
Additionally, the tables allow for snacks and meals which can be used for multiple purposes.  Preparing and eating novel snacks is an excellent way to work on fine motor skills, food exploration and conversational skills and is usually a hit with children. 
The large tree in the background provides a shady spot where children have unstructured free time. By simply providing a few loose parts in a welcoming space, children are inspired to use their imagination, creativity and problems solving skills to create play scenarios that are fun & build skills. By giving time for child-directed, free-play, children practice making decisions and managing their time.
Water has magnetic powers over many children! By virtue of the fact that children are drawn to it, it is an easy motivator for participation. Not to mention the fact that the sound and sight of flowing water is calming to the nervous system.
With relatively few materials, the presence of water allows for many motivating activity options. 
Buckets filled water provide input to joints and muscles that help a child learn body awareness and help lower sensory arousal.
Kitchen items such as pots, pans, spoons and muffin pans mud play which provide messy sensory input that some children crave. Also, play with real kitchen items inspires familiarity and may promote entry into life skills such as food preparation and cooking.
Pool noodles along with craft materials serve as ingredients for boats, etc. Children practice fine motor skills, grip, visual perceptual skills and attention to task. 
Sturdy vines, such as the one along this bank, are excellent vehicles for a child to use bilateral integration (both sides of the body working together), arm strength, coordination and core stability
Navigating the bank is ideal for motor planning, risk assessment and growth mindset. 
Taking age appropriate risks, such as climbing and walking on uneven surfaces, has tremendous value. In doing so, children develop self-knowledge about their own capacity and strength. They learn to adapt and adjust their movements in preparation for future situations. Support and guidance is provided by the therapist as needed. As children learn to assess risks and increase their abilities, they grow in confidence and resilience..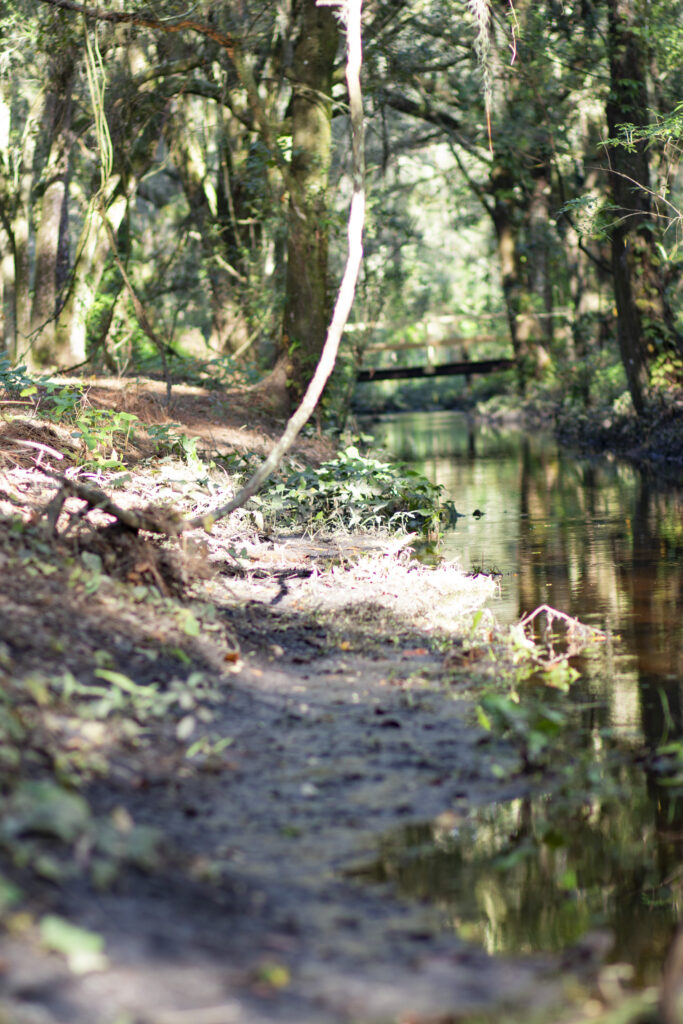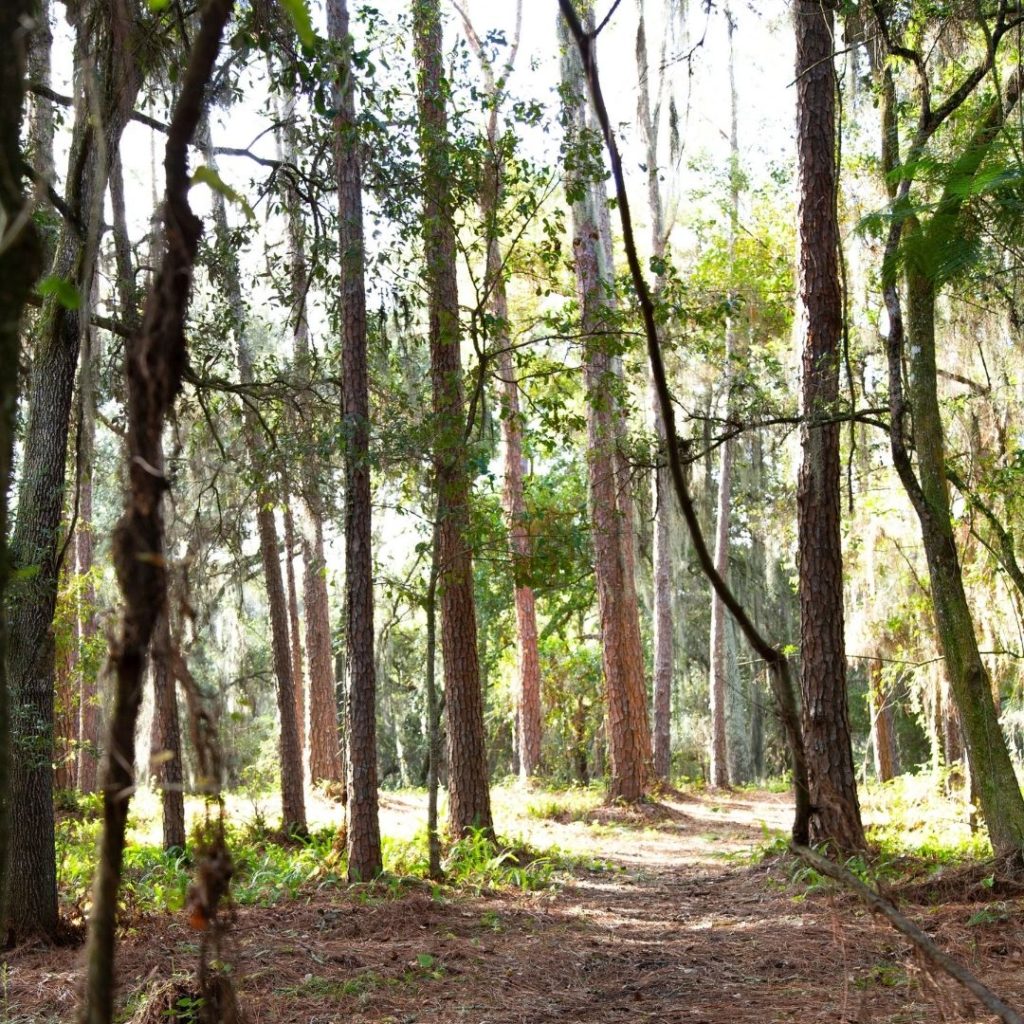 The incline in this section of the property, rare in Florida landscape, is a great place to build strength and stamina. Children carrying their own backpacks and supplies learn resilience and responsibility. Hikes build coordination and a sense of community.
Variable terrain requires a child to challenge their bodies differently than in an indoor location or even a typical playground. Hills, roots, leaves and branches act as a natural obstacle course that requires visual perception and motor planning. I love that nature facilitates this type of practice without the use of any special equipment!
The woods supply a rich context to practice visual skills. Imagine searching the ground for nuts and matching leaf shapes, finding a stick amongst similar colored ground cover or scanning the trees to find a bird. Figure-ground, visual scanning, visual discrimination, visual memory and visual attention are important skills needed for success in school that can be strengthened through meaningful activities in nature.
Not only do we focus on how nature provides the means for lasting change at Treeline Enrichment, but we foster meaningful connection between humans and nature. As we participate in therapy activities, children are taught about environmental stewardship with hopes that they can build a lifelong love of the outdoors. 
Now you have a glimpse into how an OT views the opportunities in this natural space. It's simply an honor to partner with nature to provide transformative therapy for children. Together with the skilled developmental knowledge of the therapist, nature provides an invitation for meaningful engagement and connection. In this way, the therapist, child and environment work together to facilitate positive growth.
Join us on social media to see this space come to life during our programs and services!