Occupational Therapy Kids Lakeland
Pediatric Occupational Therapy

Outdoor Occupational Therapy Groups
Helping Kids in Central Florida Become More Confident, Coordinated & Connected to Friends & Nature
Does your child take longer to learn skills that others pick up easily?    
Would you describe your child as clumsy or weak?
Does your child do great one-on-one but fall apart in social spaces like homeschool groups or on the playground? 
In today's culture, children are expected to do so much.  And when they struggle, they grow self-conscious or start disliking activities. You may feel lost, frustrated even, on how to help your child gain the skills to be their best.  
We love our unique way of providing OT! We provide our services in the outdoors, where real life situations are available, not simulated or imagined like in a clinic.  Outdoor play, like playgrounds or nature aren't just about fresh air — it's about practicing the important child skills of imagination, confidence, working with others, and coordination.   Whether your child spends their day in a classroom full of kids or learning at home, meaningful social connections are an important part of the human experience.  
Once upon a time, kids learned most of their skills in the outdoors but today it takes an intentional choice to get kids out in nature's great classroom.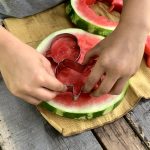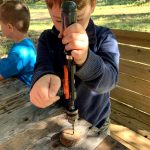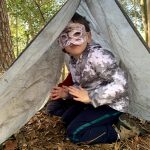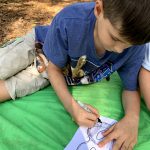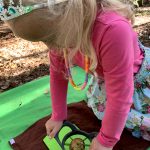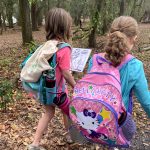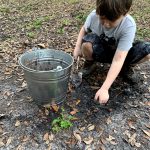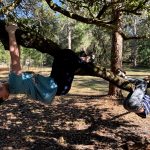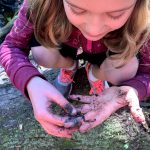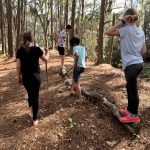 Parents who choose our program:
🌳Value  being outdoors 
🌳Seek OT for a child having challenges at home or school
🌳Don't mind a child who comes home a little dirty and tired
🌳Love a therapy option that is so much fun it doesn't feel like work
Partner with us to get your child started down the path of success.

We've taken our 15+ years of professional experience in occupational therapy into the great outdoors. Here we are able to take advantage of the emotional and physical lessons that can be practiced in a way that captures your child's attention and supports meaningful progress towards their goals.  
Exploring Pediatric Occupational Therapy That's Different
Treeline Outdoor OT Groups are made up of 4-6 kids.  We love working with children in groups because it offers rich opportunities for friendship development, leadership, and growing together.  Plus, kids are more motivated when they are around other kids.
More than skills, it's about how good children feel afterwards – successful, smiling, and fulfilled.  

Connection
Self: 
✔︎Confidence
✔︎Resilience
✔︎Self-Awareness
✔︎Self-Advocacy
Nature:
✔︎Respect for the Natural World
✔︎Environmental Stewardship

Community:
✔︎Making Friends
✔︎Showing Empathy
✔︎Resolving Conflict
✔︎Perspective Taking

Engagement
Meaningful:
✔︎Play Skills
✔︎Exploring Interest
Self-Directed:
✔︎Positive Growth Mindset
✔︎Task Initiation   
Unrestricted:
✔︎Healthy Risk Taking
Development
Mind:
✔︎Problem Solving
✔︎Creativity
✔︎Organization
✔︎Flexible Thinking 
Body:
✔︎Fine & Gross Motor
✔︎Balance
✔︎Coordination 
Energy:
✔︎Honoring Emotions
✔︎Attention
✔︎Body Awareness
✔︎Sensory Processing 
Occupational Therapy Kids Lakeland
Get Started in 3 Easy Steps:
Occupational Therapy Kids Lakeland
Applications for FALL 2022 outdoor occupational therapy groups are now closed!   Check out individual services outdoors or join the waiting list if you are interested in future outdoor OT groups at Treeline Enrichment.  
Transform with Treeline OT Groups
What you get:
🌳 Basic OT Evaluation 
🌳 Individualized Therapy Goals Written in Partnership with the Parent
🌳 12 Weeks of Skilled Services
🌳 2 Hours of Therapy Each Week
🌳 Nature-Inspired Interventions that are Fun and Feel like Play
🌳 Weekly Communication from the Therapist, Including Session Photos
🌳 Practical & Reasonable Home Program Suggestions
🌳 Small Group Setting for Real Interactions, Real Play, and Real Skills  
🌳 100% Outdoor Space to Draw on the Rich Therapeutic Opportunities in Nature
🌳 Brief, Written Statement of Progress at the End of the Semester
Fall 2022 Details: 
Groups begin the week of September 13 and conclude the week of December 8

Sensory Explorers Nature Club

Tuesdays 9:00-11:00 am
Ages 4-6
Increasing sensory awareness and motor skills outdoors.

Adventure Nature Club

Thursdays 9:30-11:30 am
Ages 7-9
Outdoor skills & games to support executive functioning and social connections.

Write Outside Nature Club

Thursdays, 3:30-5:30 pm
Ages 6-8
Building handwriting (print) skills outdoors.
*A $35 non-refundable fee is due at the time of group placement to secure your spot.  Each group requires a minimum of 4 children.
Fee $1,448
(Monthly payment plan available)
Payment Methods: Private Pay, Flexible Spending Accounts, and Family Empowerment Scholarship.  For more information on fees, payment methods, Family Empowerment Scholarship, and Insurance Reimbursement, please email us.  You may also be eligible for a Case Grant through First Hand to help with therapy service fees.  Good Faith Estimates are available upon request and will be provided to all clients prior to their first session.
Occupational Therapy Kids Lakeland